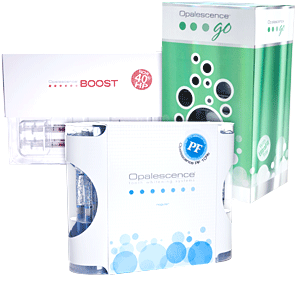 Options to fit any lifestyle
With a complete line of professional products that deliver professional results, Opalescence caters to your lifestyle. Whether you prefer to whiten overnight in the comfort of a custom tray, brighten your smile while you're on the go, or get immediate results with an in-office treatment, Opalescence can help! Learn about the complete line of Opalescence products here and talk to your dentist to learn how you can begin whitening with Opalescence today!
Take Home
Opalescence take-home whitening gel offers professional results in a customized whitening treatment you can do in the comfort of your own home. Available in a range of formulations and flavors, Opalescence take-home whitening gel is delivered via custom-made trays, further tailoring the treatment to your smile. Opalescence take-home whitening gel is available only through a licensed dental professional.
On the Go
Opalescence Go is the professional alternative to over-the-counter whitening options. It's a simple, fast, and great-tasting way to start a whitening treatment or for whitening touch-ups. With no impressions or custom trays necessary, Opalescence Go is ready to use right out of the package!
In-Office
For a brighter, whiter smile without the wait, choose Opalescence Boost, an in-office, chemically activated whitening treatment that offers results in less than an hour. It's ideal for people who want instant whitening gratification or those who have that special event coming up that requires a bright, white smile.
Opalescence tooth whitening gel contains PF (potassium nitrate and fluoride). Potassium nitrate has been shown to help reduce sensitivity. Fluoride has been shown to help reduce caries and strengthen enamel. Together they help to improve the overall health of the teeth. 1-5
No impressions, no models, no lab time
Sleek and comfortable; adapts to any smile
Discreet, clear tray material
10% – wear 30-60 minutes for 5-10 days; 15% – wear 15-20 minutes for 5-10 days
Peach, melon, and mint flavors
Call Today:  281-876-2226
12164 Greenspoint Drive, Houston, TX 77060
General and Cosmetic Dentistry serving Houston, Texas